Are you looking to buy an Environ product to help improve the condition of your skin? If so, we here at The SkinClinic Direct can help! However, to help provide you the best possible service and to ensure that the products we provide to our customers can be safely distributed on your skin.
To do this, we need to know more about your skin type in order to provide you with exactly the right product for you, first time round! Our online skin consultation is designed with customer usability in mind, and we can assure you that will only take a few minutes, but is the first step for your journey to happier and healthier skin.
By answering some simple questions about your skin type so that our skin specialists can recommend the most appropriate Environ skin care products thanks to the Environ step up system.
We aim to offer a personalised skincare service in response to the specific skin concerns you have. For example, if you suffer from Rosecea, depending on any other skin conditions you may have. We would suggest you use a combination of the Advanced Nutrition Programme Supplement Skin Accumax alongside Environ's A,C & E Oil as well as Hydra-Intense Cleaning Lotion and Sebu-Lac lotion. In addition to these specialised treatment options, at the heart of Environ Skincare in the use of Vitamin A on the skin.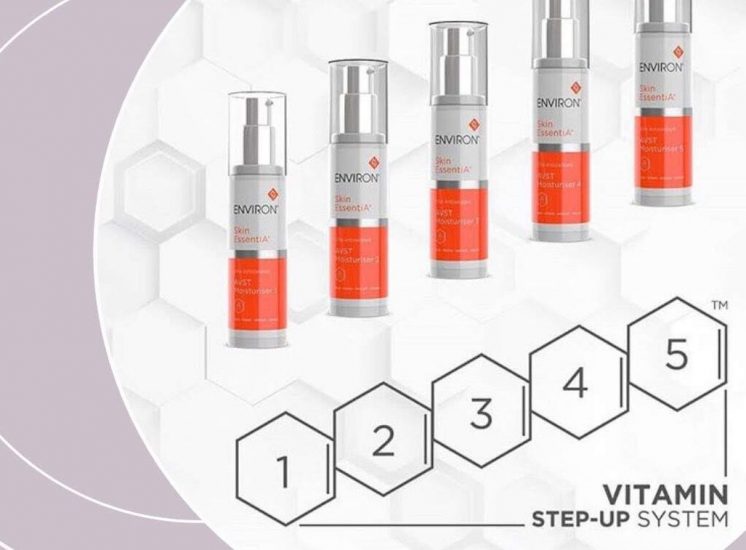 The Step-Up System by Environ
Unique to the Environ Skincare is the approach to the gradually increase the levels of Vitamin A in the skin. Environ founder Dr Des Fernandez says "Aging skin is a direct result of sun-induced vitamin A deficiency. Correct the deficiency and you'll have more radiant-looking skin."
Vitamin A is the only known molecule that keeps skin healthy, as well as providing anti-ageing benefits for those who use it.
Replenishing the Vitamin A in your cells every day with the AVST moisturiser allows you to combat the potential skin abnormalities that Vitamin A deficiency can lead to.
The Environ step up system allows you to replace the Vitamin A you lose because of sun exposure.
What can Vitamin A do for your skin?
Promotes the effects of the skin's natural moisturising factor and gives it a radiant glow.
Strengthens the effects of the skins outer layer to keep it looking firm.
Stimulate the production of natural protein to keep the skin looking healthy.
Supports the effect of the skin's immune system and helps prevent the appearance of breakouts.
Assists in reducing the likelihood of the development of potential skin cancers, giving you greater peace of mind.
Starting with the Vitamin Step-Up System which delivers the right amount of Vitamin A into your skin and allows you to gradually increase this amount over time. Beginning with the Vita-Antioxidant AVST Moisturiser 1 which contains a low concentration of vitamin A in the form of Retinyl Palmitate, as well as vitamin C and antioxidants.
How do I use Vita-Antioxident AVST moisturiser 1?
After pre-cleansing, cleansing and toning, apply Vita-Antioxident AVST moisturiser 1.
Massage into the face and neck.
Intended for use twice daily, mornings and evenings.
Use a minimum of 2-3 bottles before progressing to the next level of the Vitamin Step-Up System which is Vita-Antioxident AVST Moisturiser 2.
Do you have any questions about our environ step-up system that you would like answering? We at The Skinclinic Direct are here to help! Simply give us a call on 01744 736170 or email us at sales@theskinclinicdirect.co.uk.